New to Feeding Tube life? One thing the doctors never tell you is how many products are out there to make your life easier. Here are ten amazing products made just for tubies – often made by other tubies or parents of tubies.

A good backpack. You can usually get a backpack for your feeding pump from your DME supplier, but if you want something cuter, there are many options available online. The one pictured here is from retrofied on Etsy.

Insulated Cover for the Feeding Set. Yes, this is one of my products, but I have to say, it's genius. After waking up in the middle of the night to refill Teddy's feeding pump bag for several months, I decided there must be a better option. Four prototypes later…. voila. Holds an ice pack and keeps the feed cold all night or all day. aaaahhhhh….sleep.

Connector Cover (one of my products). The Connector Cover is genius – it covers up the connection between the feeding set and the extension to keep all those ports closed and fastened together. Help stop bedtime leaks! Also fantastic for stopping those curious little fingers from pulling apart the connection.

An alternative to the fabric options available, this clamp made by AMT also aims to hold the delivery set to the extension.

Cord Keeper (another one of my awesome products). The Cord Keeper covers up and helps manage the tubing associated with feeding tubes. Some families find that these help reduce nighttime tangles. Some tubies prefer to keep their tubes covered up. And some tubies have several tubes to keep from tangling. Cord Keepers help with all of that!

Button Cushions, Gtube Pads. These go by a lot of names, and there are a LOT of options out there online. These pads cushion the skin underneath the Gtube, they can help reduce granulation tissue, and they absorb any leaking from the stoma. Plus, they're cute. 🙂

Caribiners. We use caribiners to clip the feeding pump backpack to my backpack, to hang the delivery sets from anything handy, to clip the insulated bag that holds his pre-drawn bolus syringes to my backpack.

Cord Clip. (One of my own products) These handy clips help manage medical cords. We've used ours to hold excess tubing between feeds, as well as to manage cords in bed. They can be used to hold syringes for gravity feeding, and have countless other uses as well.

Squeazy Gear. We haven't used these soft bottles ourselves, but I've heard such rave reviews from other tubies and tubie parents. Particularly suited for those following a blenderized diet, these bottles hold your feed and connect to your tube. Easy Squeazy.

Waterproof bed pads. If you can get the ones from the hospital, go for it. If you can't, these are a nice alternative. Absorbent and waterproof, these protect your mattress from overnight leaking – whether that leaking comes from overfull diapers or from inadvertent tube disconnections or from vomiting. Save your mattress!

Velcro Straps. Oh, so many uses. I still carry five of these in my "tube emergency" kit in my backpack.
And an Exra Bonus: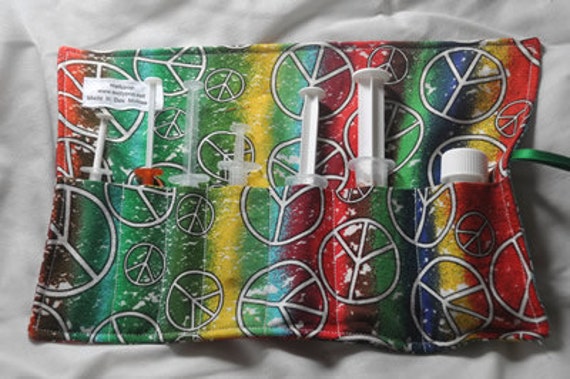 Syringe Holster. Many tubies have several meds they take through their tubes. Sure, you can carry those syringes in a ziplock bag, but the Syringe Holster keeps them organized and protected.